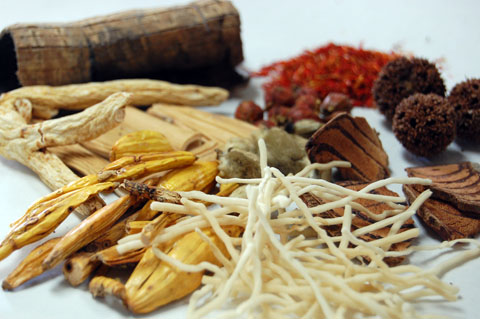 HOW TO PREPARE YOUR HERBAL FORMULA
    Classical decoction method
Step 1
Take the herbs out of one bag and place it in a pot with 2500 ml of clean water. (the pot should be stainless steel, glass or ceramic NOT aluminum or cast iron)
There should be enough water to cover the herbs by around 5 cm.
Bring to a gentle boil, then reduce heat to simmer.
Simmer until 800 ml remain (approximately 60 minutes)
Remove from heat and strain herbal liquid into a suitable container (eg: glass, ceramic). Keep in fridge until needed.
Step 2
Drink 200 ml two times daily, after meals or on an empty stomach
Drink warm to hot, use some hot water to make it warm.
Herbs may be kept in the fridge until needed
Important note : Herbs should NOT be taken within 2 hours of any other prescribed medications. If you become unwell during the treatment discontinue herbs and contact me. If you have any further questions/queries please don't hesitate to contact us.
This is a simple example of how to cook a basic formula of Chinese Medicine.  It is a quide only; it is very important to look at each formula differently as it will contain different substances.  Ancient knowledge of how to use each herb as well as a combination of herbs has been recorded for us to take note of an make use of.  So make sure that you follow instructions for your individual prescription carefully.
Many factors need to be taken into account when prescribing these medicinal prescriptions as each herb or substance comes with it a life of it's own to be treated with the upmost respect and appreciation.
Consider the nature, flavour and signature of the substance
Note the interactions each substance has with others in the prescription and with other medications an individual is taking
Acknowledge the classical use of the substances and stay true to this use as it can only be empirical knowledge if it continues in the same course of application.
We use over 230 individual substances in our clinic and this is because we want to simplify our treatments to the classical texts of the Han Dynasty.  There are well over 6000 known substances used in Chinese Medicine today.
When we use Chinese Herbal Medicine correctly we can get to a profound depth in treating a fantastically enormous array of conditions.  We understand that by regulating and restoring normal physiological processes in the body no pathology will occur and we will be free of disease.
If you are unsure about anything that you have heard or learnt during your consultations please make a note of it and ask us to explain on your next visit.  Or give us a call and we will be happy to help.
Feel free to look through our website for more information on Chinese Medicine.  Contact us for appointments…